Salsa Trading Company is Northern California's resource for interior design services, antiques, upholstery, outdoor furniture and pottery, custom wood and iron furniture.
Our commercial capabilities cover a wide range, including but not limited to:
• Custom kitchen islands and cabinets
• Custom bathroom vanities with copper, travertine, or onyx sink choices
• Lighting fixtures made from iron, pewter, and onyx materials
• Replicating antique bars that function as working restaurant and winery stations.
• Architectural elements such as old doors can be found for your unique project.
Discounts are available to the trade as well as rental of furniture and home accessories for staging homes and photo shoots.
Please see Testimonials from our premier commercial clients.
Design advice is always available through one of our trained sales merchandisers. Whether you prefer a more rustic lodge motif or a sophisticated California Country style, we have the resources for an inviting environment.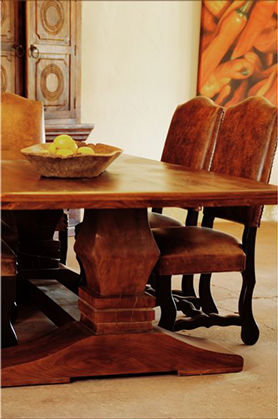 We have recently added a 'cocina' room with displays of kitchen islands that can be customized to accommodate an individuals specifications and functionality. The islands can be made with your choice of reclaimed wood, complimented by travertine or hammered copper work tops.
Custom bathroom vanities available in a variety of reclaimed wood choices are another newly added Salsa concept. Copper, travertine and onyx stone sinks can be purchased or custom ordered for bathrooms and kitchens.
Lighting fixtures can be custom designed in addition to our impressive selection of iron and pewter chandeliers, hand forged iron sconces, antiqued tin sconces and modern onyx sconces with an organic feel.
Whatever is needed to give your home the unique 'Salsa Style" you desire, we are prepared to assist you.